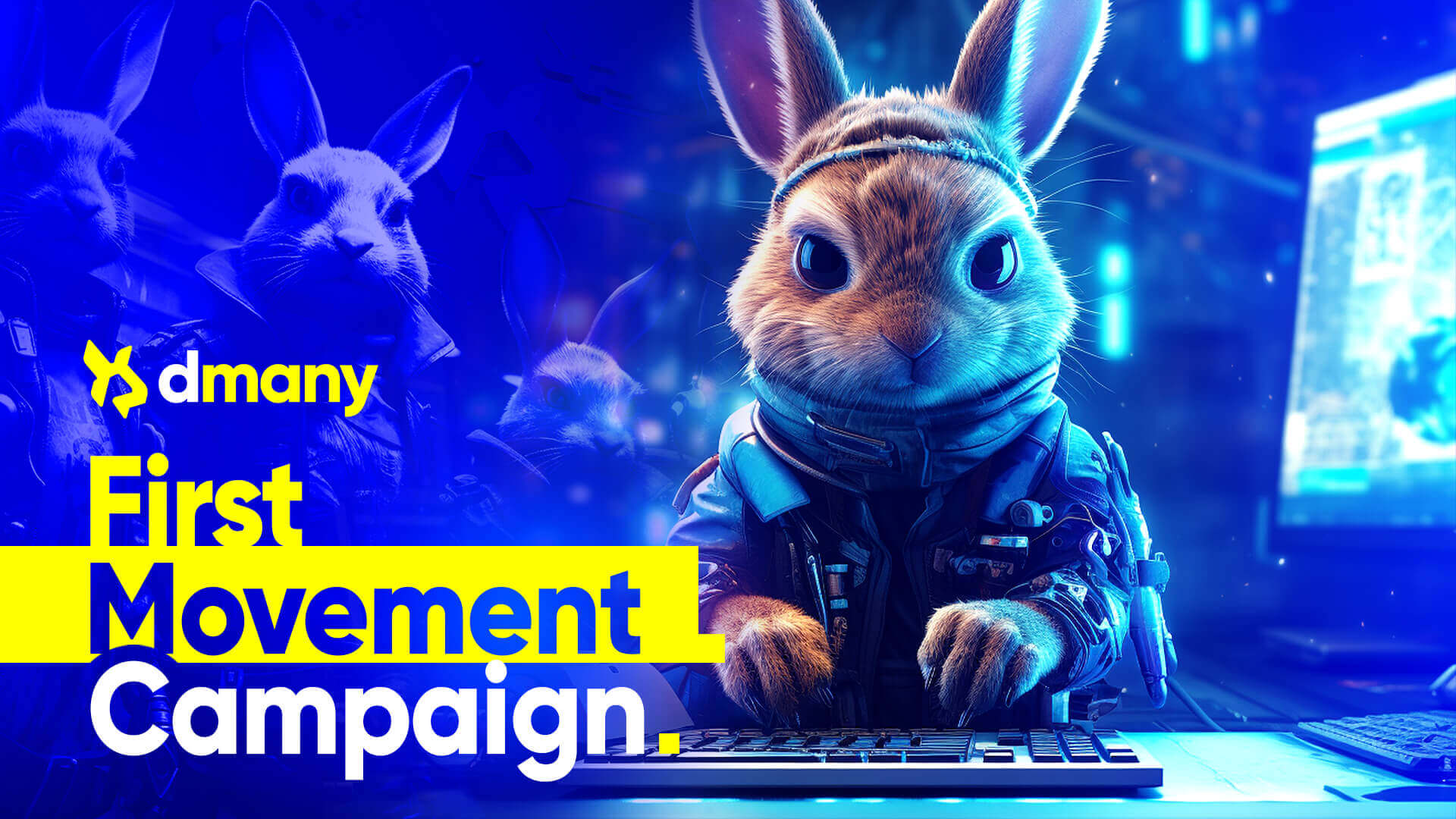 Dmany's First Movement Campaign
As we move forward in our journey towards a decentralized future, we want to recognize and reward our early community for the support and participation. We're delighted to unveil "Dmany's First Movement Campaign" – an initiative where you can earn points, receive rewards, ascend the ranks, and most importantly, have fun!
Here's how it works:
To start questing, join Dmany ALPHA app at
Quests
We've crafted a series of engaging quests, namely "🐤🐇 Your first Dmany tweet", "🌐🐰 The rabbit hole website", and "📺🐇 Rabbits like videos", among others. Each of it is intended to immerse you in a distinct facet of Dmany, enabling you to explore, learn, share, and contribute in diverse ways.
The First Movement Campaign will run until the full launch of the Dmany MVP, anticipated to occur in August. During this period, we will continue to introduce new tasks for each quest every week, all of which can be accessed and completed on our alpha platform. These quests represent more than mere challenges – they are a celebration of our community's creativity, engagement, and dedication. So, prepare yourself for this exciting journey!
Points and Ranking
The more quests you complete, the more points you accumulate. These points will be displayed on the official Dmany platform once it is launched in the upcoming weeks, providing you with a convenient way to monitor your progress. Meanwhile, your position at the end of First Movement Campaign, will directly affect the rewards you get from it.
Rewards
Upon the conclusion of the quest period, participants will be awarded based on their rankings and points accrued. The total reward pool for this campaign stands at an impressive 150,000 Dmany tokens! These will be distributed among the contributors in accordance with their rank at the TGE of Dmany token. Explore our quests in the initial version of the application! Rewards comprise token allocations and exclusive Dmany NFTs!
Stay tuned for more details on the quests and how you can participate. We eagerly await the exceptional content you'll produce and the enthusiasm you'll infuse into our community. Together, let's make the advent of decentralized engagement an extraordinary event!
Note
Don't forget to join our vibrant discord community to chat regarding the campaign and exchange thoughts, feedbacks and best practises. Let's uphold a respectful and positive environment for everyone. Happy questing!