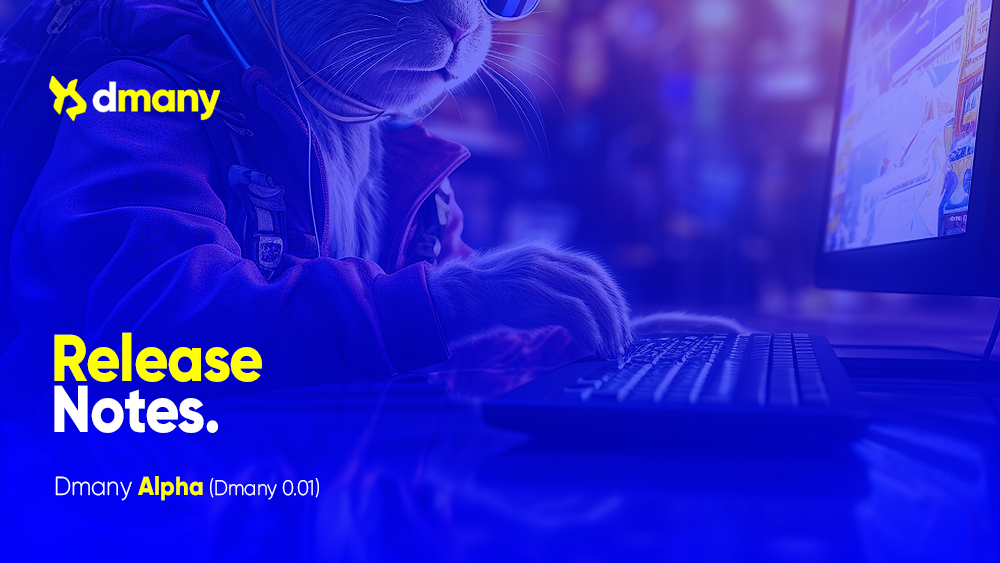 Dmany Release Notes: Dmany Alpha (Dmany 0.01)
Greetings,
We are excited to share a significant milestone in our journey at Dmany. Today, we unveil the Alpha version of our platform, a sneak peek into the future of decentralized engagement.
Our journey began with a vision to transform the way companies, startups, and scaleups connect with their audience and create meaningful engagement. We saw the need for a platform that could bridge the gap between great products and their intended audience, fostering a sense of ownership and belonging among community members. Dmany is our answer to these challenges.
Our dedicated team at Dmany has been working tirelessly to bring this vision to life. Today, we are proud to share a glimpse of what we've been building. The Dmany Alpha version is a blueprint of what's to come. It's not the final product, but it's a crucial step in our journey.
We have hundreds of quests ready for you once Dmany's app launches. These quests are designed to ensure that any strategic roadmap can be executed by the community through Dmany. And we're starting now with Dmany as the "test rabbit" itself!
We're setting aside a reward for your early commitment. We want you to be part of this journey, to help us validate our hypotheses, and to participate in these quests – the heart and soul of Dmany. For this purpose we launch – First Movement Campaign for Dmany.
Remember, this Alpha version is just a taste of what's to come. It's not a final product, but it's a crucial step in our journey. We're using the gleam.io application for task validation, to keep our tech team focused on crafting the real Dmany application. If you encounter any bugs, please report in our Discord channel. Every issue, technical or process-based, helps us improve.
We're incredibly excited about this journey and the potential that Dmany has to transform the way we think about marketing and community engagement. We're not just building a platform; we're shaping the future of digital engagement.